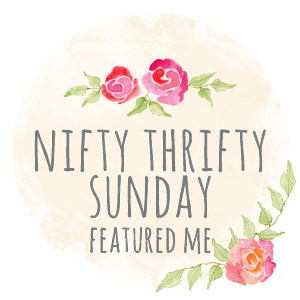 It's an exciting day in my household today as I've sponsored the Nifty Thrifty Sunday over at
Vanessa's blog
! There are so many amazing things to check out over there. She has lots of great posts about awesome handmade items. Floral Fridays are also a personal favourite as my green thumb is not so green and I keep hoping I might get it a bit more green before I have a garden in a yard that I need to maintain.
On the note of nifty thrifty things I did up a
quick little ornament
just the other day with fabric and thread that I had in my stash. It's my continued attempt to "shop from my stash". This cute little ornament will get sewn up and made into a great little Halloween decoration. I'm dreading it but one day this week needs to be my "make actual ornaments" day where I fight with the sewing machine and get some of these stitched piece into actual ornaments.
I almost think I need to make a deal with a sewing machine master near me to have them make them up into the sewn ornaments so that they can go up for sale at the store.
However at the same time I know that I need to get wayyy better at using the sewing machine. So it's good for me. And if one comes out all botched then it just gets to live at my house forever. LOL. :)
This is
Haunted Heads
on unknown fabric (I think it's a 32 count) and with DMC threads. If I didn't have the real color asked for in the pattern I used something close (and you'd never know I cheated that way)!
In other news
I am putting together the promised package giveaway that will include a pattern, fabric and the threads to complete the piece. A kit in it's own right I suppose.
Plus
I am going to share the first progress picture from my stitching commission! It's coming along quite nicely and I think I've already got about 1/4 of the piece done!
Also
there is a new little family member to stitch for as one of my cousins had a lovely little boy. So new pictures will be coming soon of another baby sampler.
Thanks for visiting today and enjoy the rest of your weekend.