After many trial and error moments in beading I think I finally found a type that I really understand. So far it's been the square stitch. This pattern is from Bead & Button magazine. I've changed the colours for Christmas. Its very time consuming So far it looks like this:
Further from that I've been working on some ornaments to donate to a friends charity event. Today in a few hours I finished this 2009 Just Nan pattern "over the top" tin. Here's the stitching (I am going to finish it this weekend):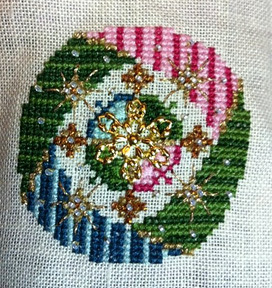 Finally. Why you're all here. Lol.
A new giveaway. As always rules are:
1) you have to be a follower
2) You have to have an email address in your post or on your profile. If I pull your name and can't get your email within a few minutes then I will pull another.
3) post a comment to be entered on this post
4) if you post about this giveaway on your blog you get a bonus entry (just make a note in your comment that you did please!!)
The prizes:
There will be 3 packages. 2 stitchy ones. And 1 beading one. Once I have winners I will ask for likes, dislikes etc and customize the package for you!! :)
Finally, it's been a tough week. Especially with some stitchy stuff. But it's gotten better and I'm so glad to have my online community. You guys are great.
Good stitching!
Mel
- Posted using BlogPress from my iPhone